The center gift card can be purchased at
Sandnes Center, Langgata 41, 3rd floor (Mon-Thurs 10-15)
Hetland Sport, Our house.
For businesses, the center gift card can be ordered from us by e-mail: post@sandnes-sentrum.no
When ordering gift cards to be invoiced, these must be prepaid.
Invoicing can be done the same day the order is received.
NOK 20, – in fee which includes cards, covers for cards and envelope.
NOK 50, – in fee for invoice.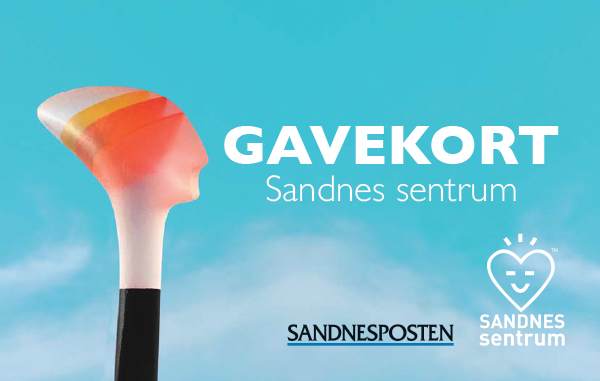 The center gift card can be used in the following stores:
Sandnes Sentrum
Agape – Annabelle – Anne's Hårdesign – Antik & Auksjon – Apetino – Barna i gata – Beijing Cuisine – Bibelbutikken – Blomst Viola – Brødrene Pedersen – byBrun – B-Young – Bådeog – CaMuskel – Carfix Gann – Carlsen Elektro Inst – Clinique Helene – Clinique Marine – Delikatessen By foodfighters – DFU Møbler – Ditt Apotek Kjosavik – D. Nysted – Gullsmed Christophersen Sandnes – Felleskjøpet Rogaland Agder – Four Season Spa – Galleri G – GamlaVærket – Gaute Rostrup – Gresk Gourmet – Grønnestad Hårdesign – Helsebutikken – Hetland Sport – Hotel Sverre – Idland 1869 – Japan Photo – Kanelsnurren – Kaja Klær & Sko – KinoKino – Lindal – L'Occitane – Macau – Noi – Norli Sandnes – Oliviers – Otteren Gullsmed & Urmaker – Pastabakeriet – Pels & Mote – Rammehjørnet – Sandnes Kunst- og kulturhus – Sandnes Optikk – Sans Mote – Seland Optikk – Siv Andersen, Art Gallery – Skin Tonic Vigesdal – Skoringen – Smak og Små – Spar Byhagen – Spinn – Storms AS – Swedish Grace – Ticket Reisebyrå – Top Man – Umulig Bukett – Urmaker Grøtteland – VatneBokhandel – Velvet
Maxi Sandnes
Agenda – Apotek 1 – Ark – Bjørklund Urmaker Gullsmed – Clair Woman – Clas Ohlson – Europris – Eurosko – Feel – Gullsmed Christophersen – Hair & There – Jernia – Klinikk for alle – Lunchbaren – Mille undertøy – Notabene – Ringo – Sunkost – Symsam – Sørbø Barn – Telenorbutikken – Tilbords – Traktøren – Troll i Eske
AMFI Vågen
Apotek 1 – Big Bite – Big Horn – Bik Bok – Carlings – Cream – Cubus – Cutters – Din Sko – Elkjøp Phonehouse – Eurosko – Fredrik & Lousia – Hair & There – Hennes & Mauritz – HC Shop – KappAhl – Kitch'n – Lampehuset – Life – McDonalds – Modern Design – Monki – Nille – Normal – Notabene Princess – Phoneklinikken – PåSiå – Renseriet – Sandnes Sushi – Sportshuset Outlet – Stormberg – Studio – Mote – Urban – Vita – Vitusapotek Symra – Volt – Wagner
Bystasjonen
Apotek Hegren – Ark bokhandel – Brands21 – Dressmann – Empire Tattoo – Floriss – Jack & Jones  – Jordbærpikene – Kicks – Kid Interiør – Kinsarvik Naturkost – Kiropraktor Akutten – Løplabbet – Make Up Art – Mani – Match Fashion – Modern Design – Nikita – Nille – Only – Polarn & Pyret – Safiren – Shin Sushi – Skoringen – Specsavers Optikk – Sport Outlet – Subway – Telia – VITA